JFK Neighborhood and Page Woodson Block Party
June 27, 2019 - 4:30 pm - 6:30 pm, NE 6th & High St., Oklahoma City, OK
Join the JFK Neighborhood and the Page Woodson community for a Neighborhood Block Party!
Come eat, fellowship, and find out what we are doing as a community!
Spokies Station • Gardens • Construction Phase III • New Coffee Shop • Restaurants • Bookstore • Transportation • See The Seven Historical Exhibit
For more information, contact Kim at (405) 601-1989
or email jfkneighborhood@gmail.com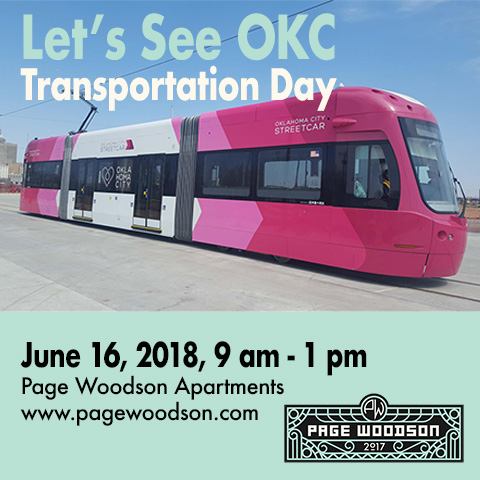 Transportation Day
FREE Admission - June 16, 2018, 9am-1pm
Celebrate Juneteenth and visit the historic Douglass to learn about transit options available in your community and around Oklahoma City! Representatives will be on hand from EMBARK, Spokies, and Oklahoma City!
Also, take a tour of the historic Douglass apartments (located in the old Douglass High School), or the brand-new Douglass Next Door and Seven Apartments! Don't miss the Juneteenth Celebration in nearby Washington Park. Head over and enjoy the festivities following your time with us at Page Woodson!
KidsAlive! Christmas Cabaret
Free Admission - Dec. 20th, 7-9 pm
KidsAlive! presents their Christmas Cabaret show at the Presbyterian Health Foundation Community Room at The Douglass at Page Woodson! Listen to your favorite holiday music while enjoying delicious treats!
Neighborhood Meet & Greet
August 26th, 2017 - 11 am to 3 pm
Join us from 11:00 am to 3:00 pm on Saturday, August 26th for an afternoon of neighborhood fun for you and your fur family at Page Woodson Apartments'
Neighborhood Meet & Greet!
Tours of the beautifully renovated historic
Page Woodson apartments will begin at 10 am.